Salut à tous !
Cette semaine est plutôt bien remplie pour une fin d'année 🤪 Je vous laisse découvrir tout ça.
Mon épisode pour le podcast React Round Up est en ligne. On y parle des dernières nouveautés React 18, de MDX ou encore Docusaurus.
👋 C'est la dernière édition de l'année, la newsletter reviens le 10 janvier !
🎄 Bonnes fêtes de fin d'année 🎅
💡 Consulter cette newsletter sur Twitter - format visuel 🎨

Pour me soutenir:
😘 Recommande la newsletter! Ça m'aide vraiment beaucoup!
📨 Réponds à cet email
💬 Rejoins le chat Discord
Ne manque pas le prochain email !

💸 Sponsor​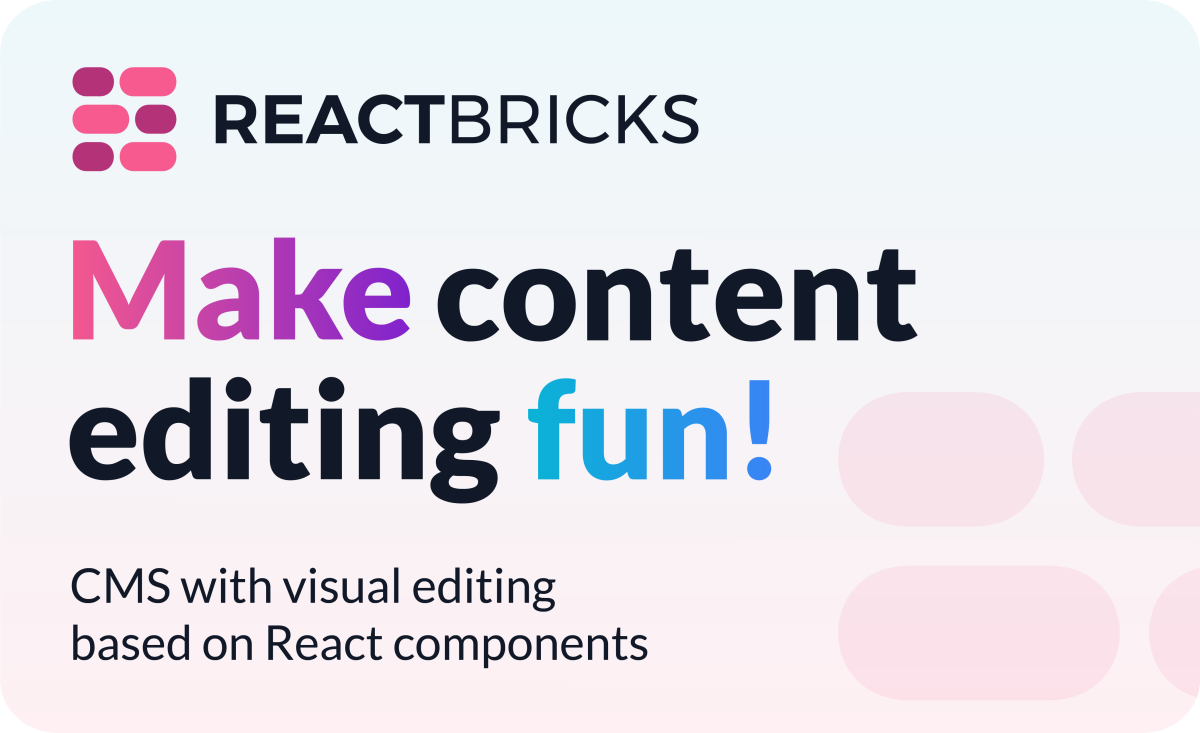 React Bricks est un CMS visuel basé sur des composants React.
Flexible pour les développeurs: créez votre propre design system en utilisant des composants React, ajoutez l'édition visuelle dans votre JSX et ajoutez des contrôles dans la barre latérale pour modifier les props comme la couleur de fond. Choisissez Next.js, Gatsby ou Remix et le framework CSS de votre choix !
Facile pour les éditeurs: qui peuvent éditer directement de manière visuelle sans casser le design system: beaucoup plus facile que d'éditer des entités abstraites en utilisant des champs gris, comme dans un CMS headless classique. Vous gagnez du temps: les éditeurs de contenu sont autonomes !
Prêt pour l'entreprise avec la collaboration, le versioning, l'authentification unique, la conformité réglementation GDPR, le CDN global pour des images optimisées, l'intégration e-commerce électronique, la publication programmée et bien plus encore.
Commencez ici: ReactBricks.com

⚛️ React​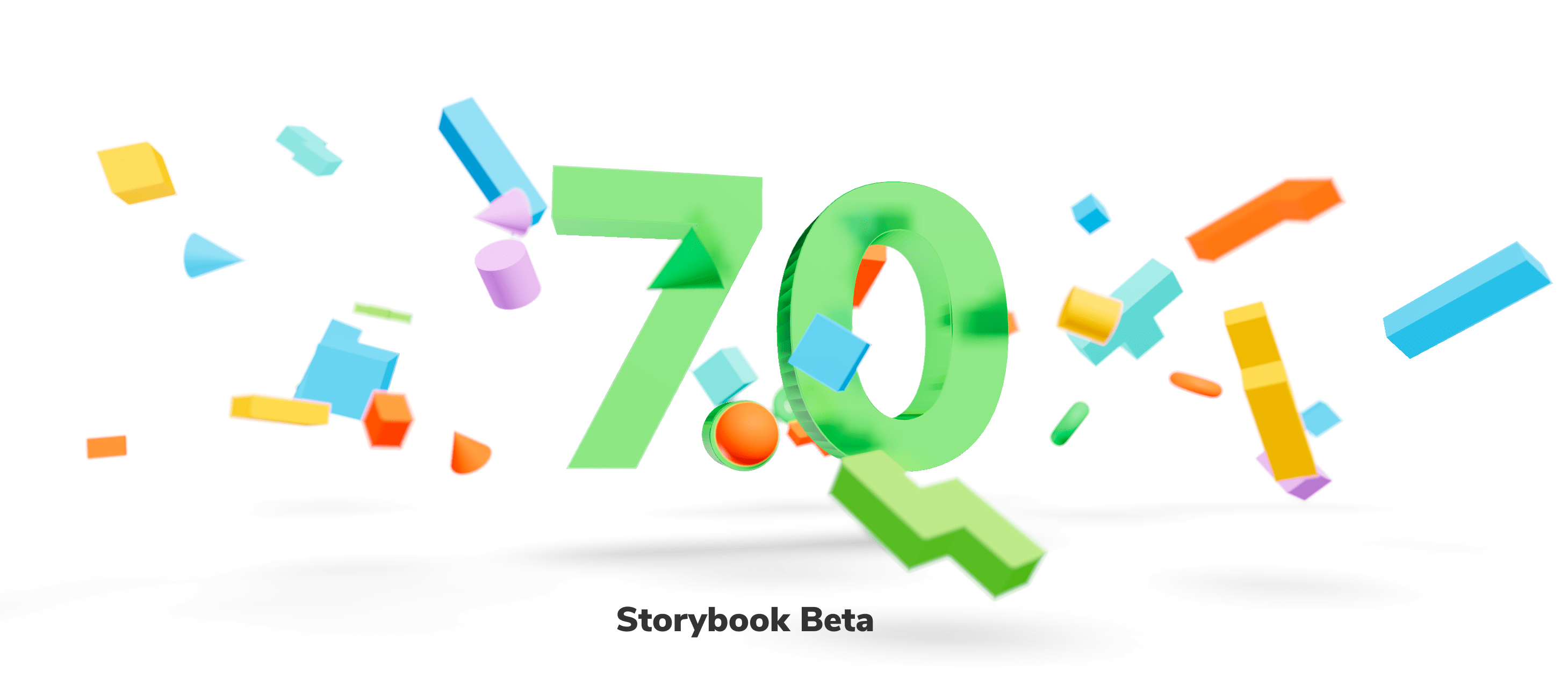 Storybook annonce officiellement la sortie de la v7 en beta. La version finale sortira dans quelques mois. C'est une très grosse mise à jour avec un plan de migration et des outils prévus pour nous aider à upgrader. Quelques nouveautés:
Améliorations de design, de performance
Tests: interaction testing, Playwright, coverage reporting
Documentation en MDX 2
Component Story Format 3.0
Frameworks API: Vite, Next.js, SvelteKit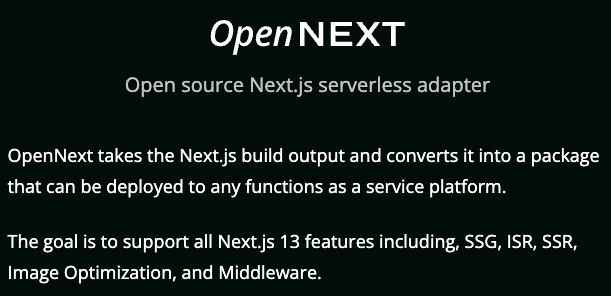 OpenNEXT - Open source Next.js serverless adapter
Un projet qui vise à améliorer la portabilité de Next.js vers les plateformes serverless, en incluant toutes les features (SSR, mais aussi ISR, middleware, Image Optimization). Pour le moment, OpenNEXT permet de déployer sur AWS.
Pour Ryan Florence, Next.js n'est pas vraiment open-source, et cela conduit a des débats intéressants. La vidéo de Theo Browne résume bien la situation: Is NextJS A Trap? Vendor Lock In Rant.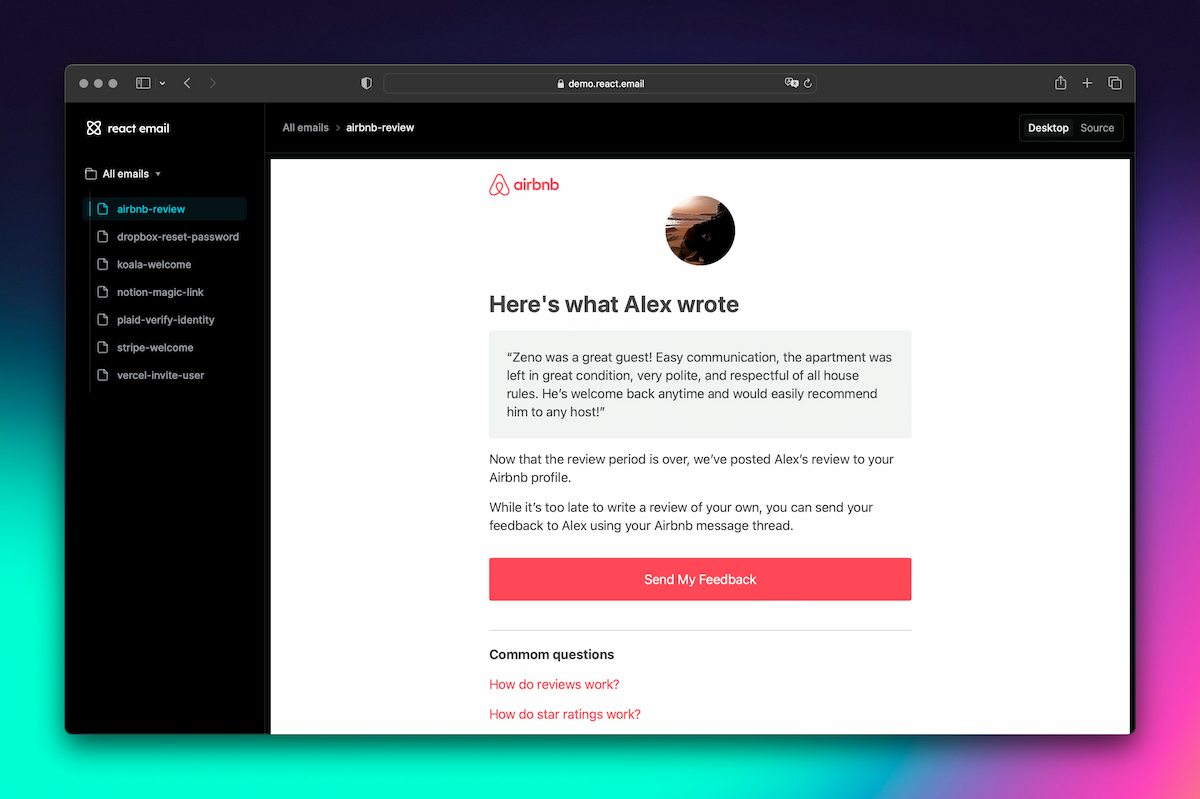 Nouvelle solution pour créer des emails basé sur React et TypeScript. En pratique, il s'agit d'un renderer et d'un ensemble de composants headless compatibles avec les clients emails populaires, ainsi que d'une interface pour développer ses emails avec une bonne DX. La démo reproduit quelques emails de chez Vercel, Airbnb, Stripe... Cela fait penser à une version moderne de React-MJML, avec en plus l'interface de preview intégrée.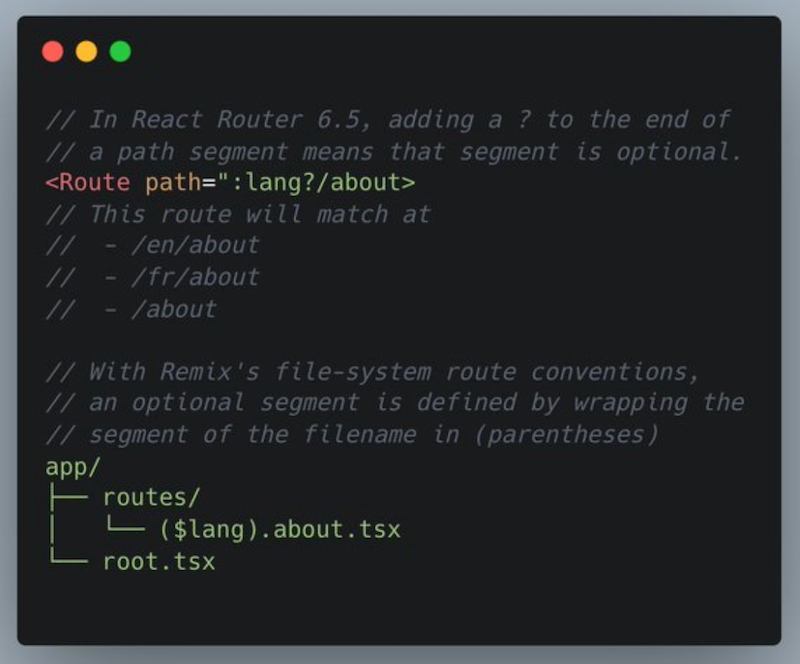 2 releases liées qui marquent la fin du projet de React-Routering Remix (déplacement du code Remix dans React-Router), et la réintroduction des optional route segments

Ne manque pas le prochain email !

💸 Sponsor​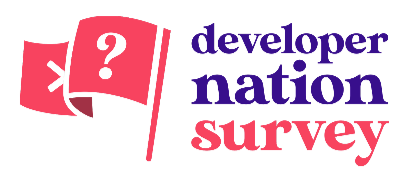 Vous voulez avoir un impact sur l'écosystème des développeurs ?
D'après le dernier rapport State of the Developer Nation, React est de loin la lib client la plus populaire puisqu'elle est utilisée par 58 % des développeurs web qui utilisent des frameworks web. Qu'en pensez-vous ?
Participez à l'enquête la plus complète jamais créée par Developer Nation, façonnez les principales tendances chez les développeurs pour 2023 et gagnez des cadeaux incroyables ! 🎁
Une fois le questionnaire complété, vous obtiendrez un accès gratuit à notre sac à surprises virtuel. N'oubliez pas de vous inscrire pour participer aux tirages au sort hebdomadaires. Parmi les 250 prix, vous trouverez un ThinkPad L15 Gen 3, un mini PC Intel NUC 10 Performance, des kits IoT, un iPad Air, des cartes-cadeaux, des cours Udemy, des accessoires tech, et bien d'autres encore.

📱 React-Native​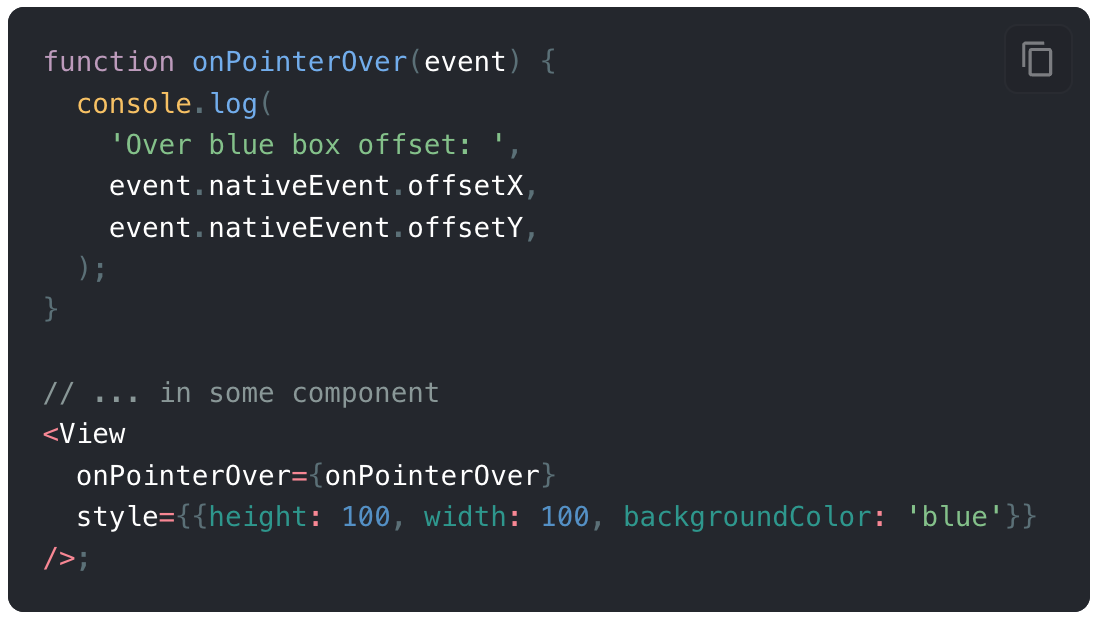 Pointer Events in React Native
L'API web Pointer Events est en train d'être portée sur React-Native. C'est une très bonne nouvelle pour le cross-platform. Cela devrait également faciliter l'usage de features comme la gestion du hover et du clic droit via les éléments JSX de React-Native.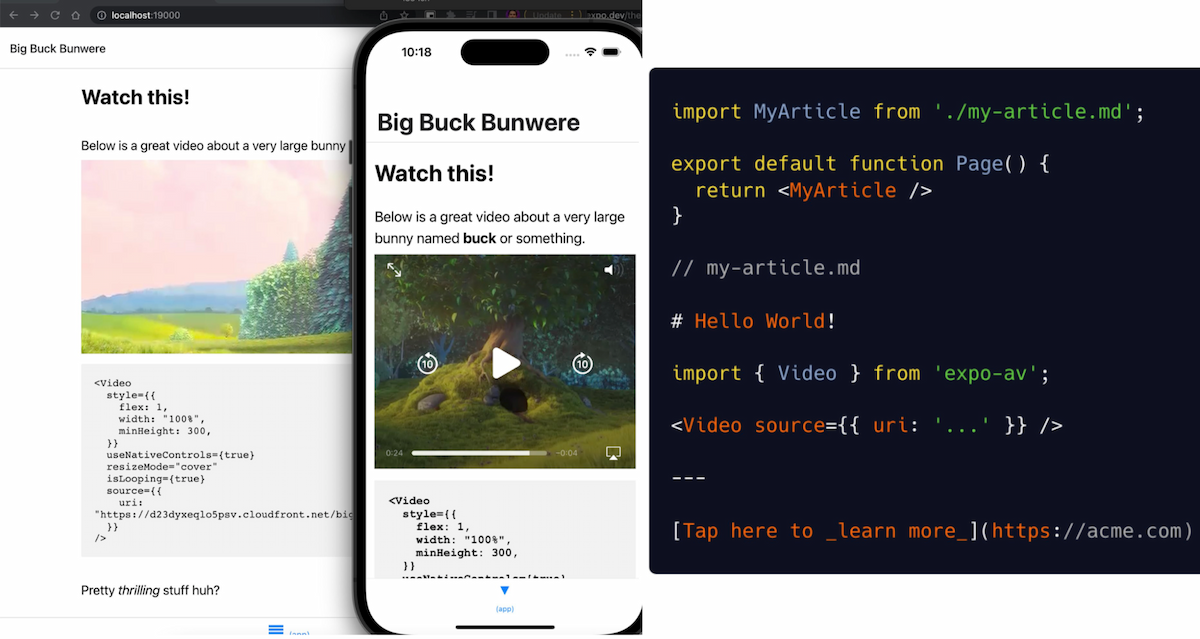 Evan Bacon publie un package pour faciliter l'usage de MDX sur React-Native. Metro compile le MDX en composants React, et un provider substitue les éléments DOM (cible par défaut de MDX) par des éléments React-Native. On peut s'attendre à une utilisation prochaine dans Expo-Router, comme la possibilité de créer un nouveau screen React-Navigation en créant un simple fichier .mdx? 👌
Le support MDX sur React-Native est sujet qui me plait particulièrement. Voir aussi mon talk React Native EU 2020 - Cross-platform: ReactNative, Jamstack, And Beyond ou mon article Using Expo in Gatsby.


🧑‍💻 Jobs​
🧑‍💼 Premier Octet - Développeurs(euses) React - Paris
Nous cherchons des développeurs(euses) JavaScript passionnés. Vous interviendrez en développement sur des projets variés et motivants, à la fois serveur et front (React, Nest, Next), et éventuellement mobile (React Native).
💡 Comment publier une offre d'emploi ?

🇫🇷 En français​
💡Tu peux m'envoyer ton contenu: sebastien@thisweekinreact.com !

🔀 Autre​

🤭 Fun​