Salut à tous !
On vient juste de passer un cap: vous êtes maintenant plus de 20.000 lecteurs! 🥳️
Merci à tous de m'accorder votre attention chaque semaine et de m'aider à faire grandir ce beau projet! Si vous souhaitez me donner un coup de pouce: le bouche-à-oreille fonctionne bien. Je prépare d'ailleurs un "referral program" qui me permettra bientôt de connaître mes meilleurs ambassadeurs, et de pouvoir les remercier ou récompenser.
Avoir une masse critique de lecteur est important pour moi: cela me permet de trouver des sponsors et compenser le fait que j'y dédie 50% de mon temps. Après 3 ans d'effort, j'arrive enfin à l'équilibre: ça va me donner la liberté de tester de nouvelles idées sans prendre trop de risques.
Sinon, cette semaine est marquée par la sortie de Next.js 13.3 et Storybook 7.0. React Visualized est une resource très sympa pour les débutants. Je découvre Modern.js. Quelques bons articles sur React, Remix et Chakra UI. Plutôt calme coté React-Native.
Pour les développeurs React-Native, ne manquez pas la conférence App.js à Cracovie le 10-12 mai. C'était une très bonne expérience pour moi l'année dernière 👌. Ils nous offrent -20% sur les workshops.
💡 Consulter cette newsletter sur Twitter - format visuel 🎨

Pour me soutenir:
😘 Recommande la newsletter! Ça m'aide vraiment beaucoup!
📨 Réponds à cet email
💬 Rejoins le chat Discord
Ne manque pas le prochain email !

💸 Sponsor​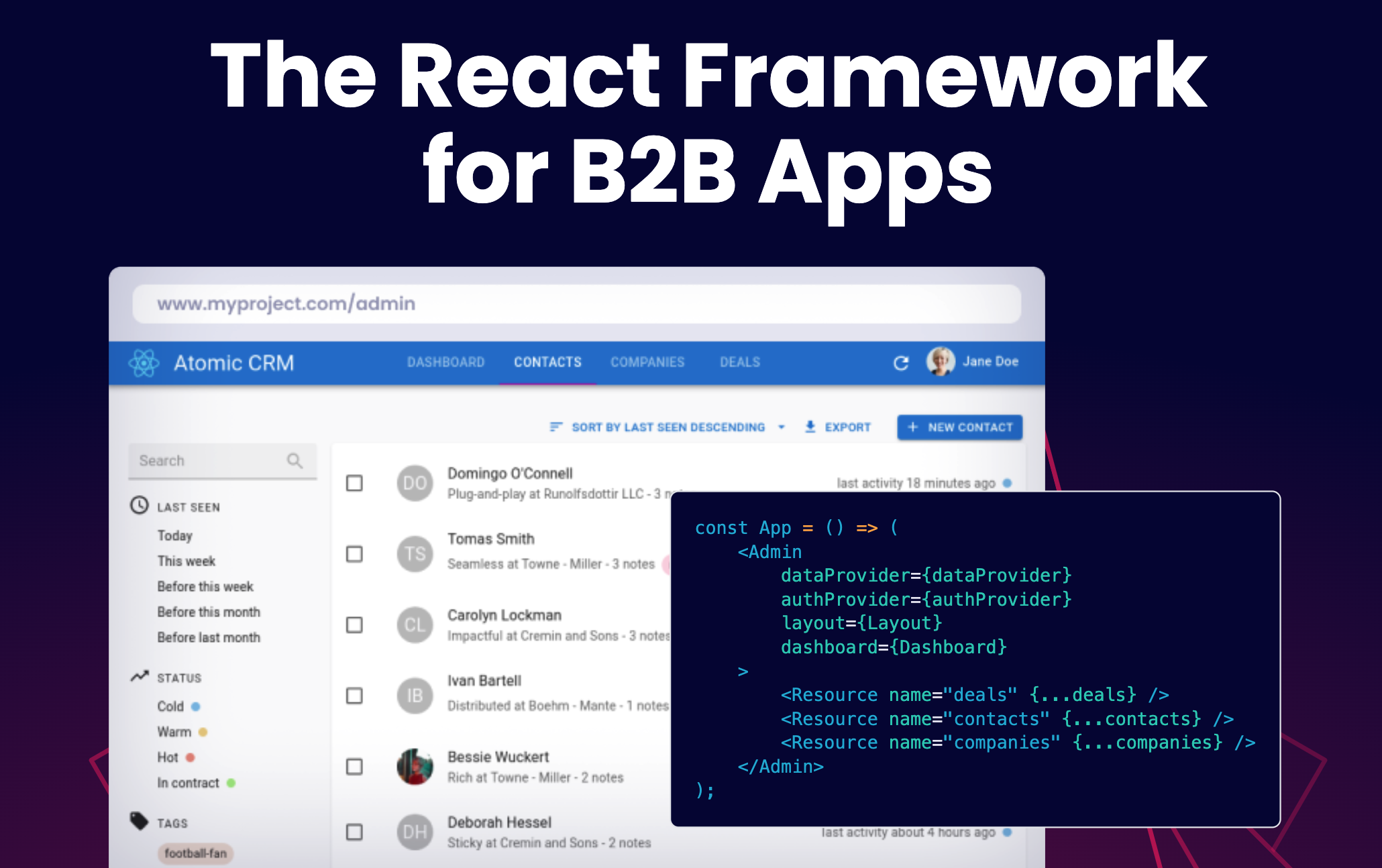 React-admin - Le Framework Open Source d'applications B2B
Les Single Page Apps restent le meilleur choix pour les applications d'administration, les CRM et les ERP basés sur des APIs REST ou GraphQL. React-admin est le framework open-source de référence pour le développement de SPA.
React-admin, c'est une bibliothèque de plus de 150 composants orientés métier, qui assemble le fleuron des libs open-source de routing, UI, gestion de formulaire et data fetching pour React. En libérant les développeurs des tâches répétitives, react-admin les rend plus productifs... et plus heureux !
Notre point fort ? La meilleure "Developer Experience" du monde React, grâce à une documentation impeccable, de nombreux exemples et une communauté dynamique. React-admin, c'est 6 ans de développement, plus de 20 000 développeurs convaincus, et 3 000 nouvelles applications lancées chaque mois. Venez l'essayer, c'est gratuit - 30 minutes suffisent.

⚛️ React​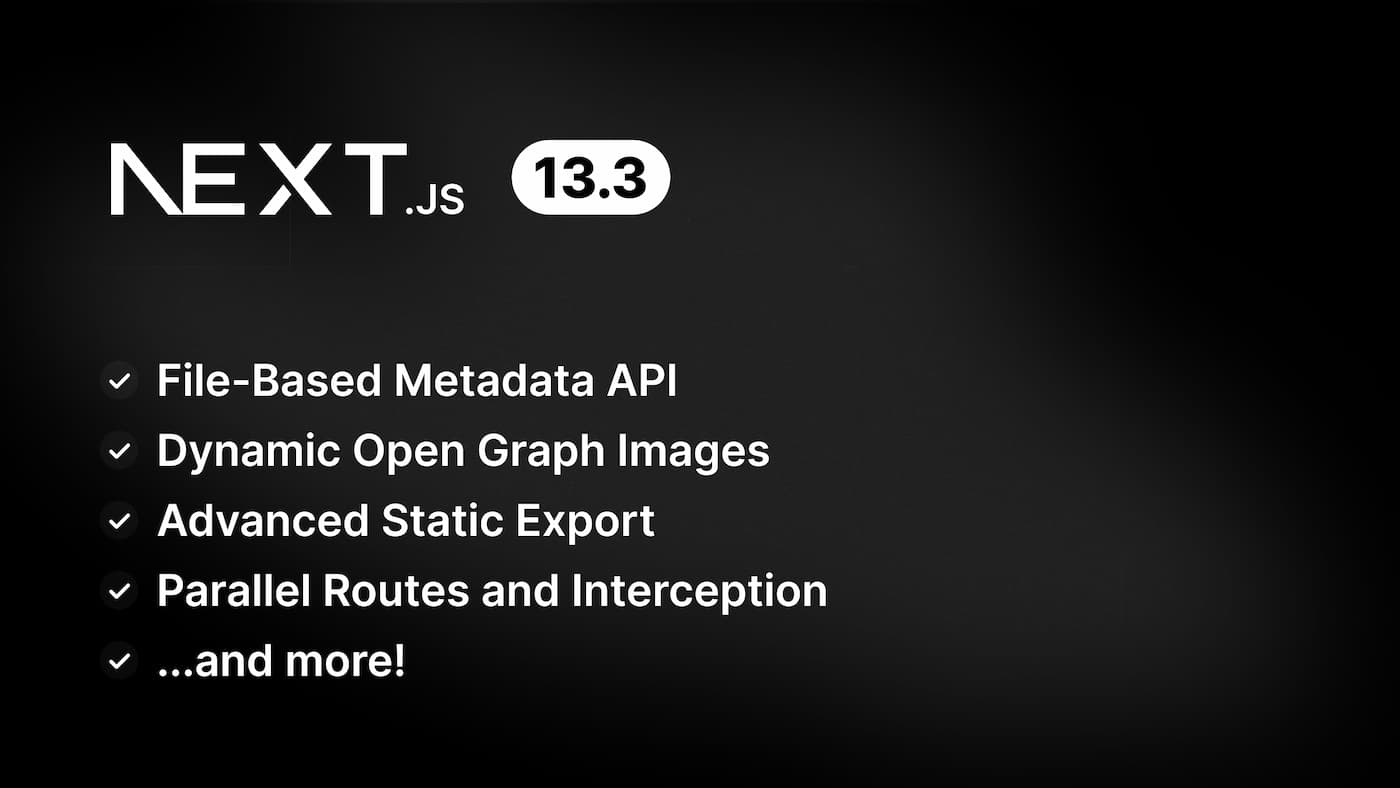 Des nouveautés très sympa dans cette nouvelle release Next.js. Le nouveau App Router sera prochainement considéré comme stable.
File-Based Metadata API: nouvelles conventions file system pour générer sitemaps, robots, favicons... Voir également ce thread visuel.
Dynamic Open Graph Images: intégration de @vercel/og et Satori directement dans Next.js pour générer des social cards via JSX et CSS ou Tailwind.
Static Export: Next.js peut exécuter les Server Components au moment du build et produire un export statique de votre app qui ne nécessite pas de serveur.
Parallel Routes: le composant layout peut définir plusieurs "slots" qui seront remplis par différentes pages.
Interception Routes: permet d'implémenter les patterns de routing type "Instagram", une photo peut être ouverte dans une modale ou en plein écran selon d'ou on vient.
Plein d'autres améliorations.

Une resource visuelle et interactive très sympa pour découvrir React. À partager aux juniors de votre équipe.

Ne manque pas le prochain email !

💸 Sponsor​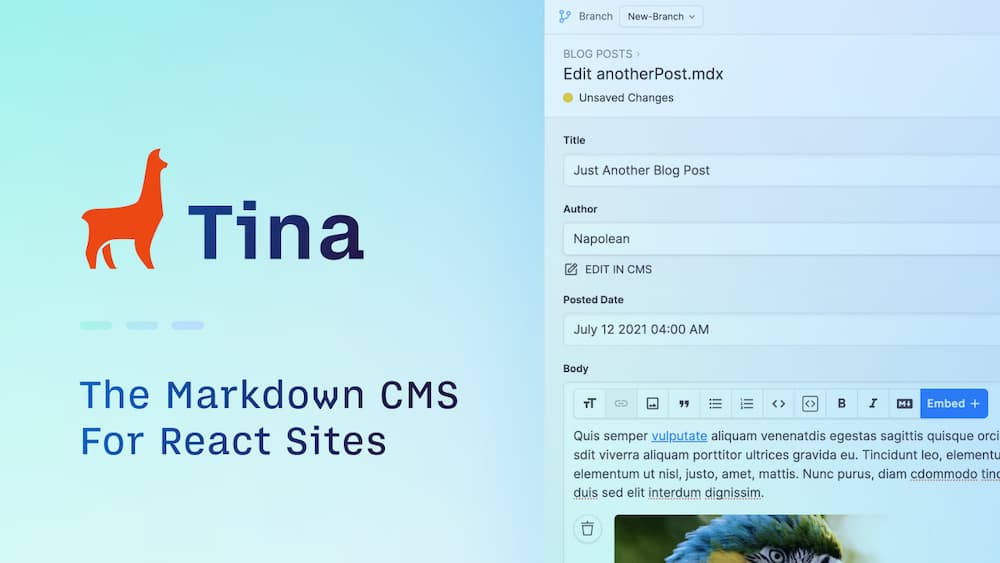 Tina.io is a headless CMS for Markdown-powered sites
Editing UI for your Markdown files
UI for MDX components
Supports static (SSG) and server-side rendering (SSR)
Option for visual editing (live-preview)
Build with reusable blocks
Test a starter site
Or run  npx create-tina-app@latest  then visit localhost:3000/admin
Watch the 4-min demo video

📱 React-Native​

🧑‍💻 Jobs​
🧑‍💼 Shotgun - Senior Full Stack Engineer - 60-75k€ + BSPCE
Shotgun est la billetterie des évènements electro. Nous recherchons des devs expérimentés pour travailler sur une stack moderne: React, React-Native, Typescript, GraphQL, NextJS, PgSQL, Vercel...
🧑‍💼 Premier Octet - Développeurs(euses) React - Paris
Nous cherchons des développeurs(euses) JavaScript passionnés. Vous interviendrez en développement sur des projets variés et motivants, à la fois serveur et front (React, Nest, Next), et éventuellement mobile (React Native).
💡 Comment publier une offre d'emploi ?
🏢 Vous recrutez en CDI ou freelance? Contactez-moi!

🇫🇷 En français​
💡Tu peux m'envoyer ton contenu: sebastien@thisweekinreact.com !

🔀 Autre​

🤭 Fun​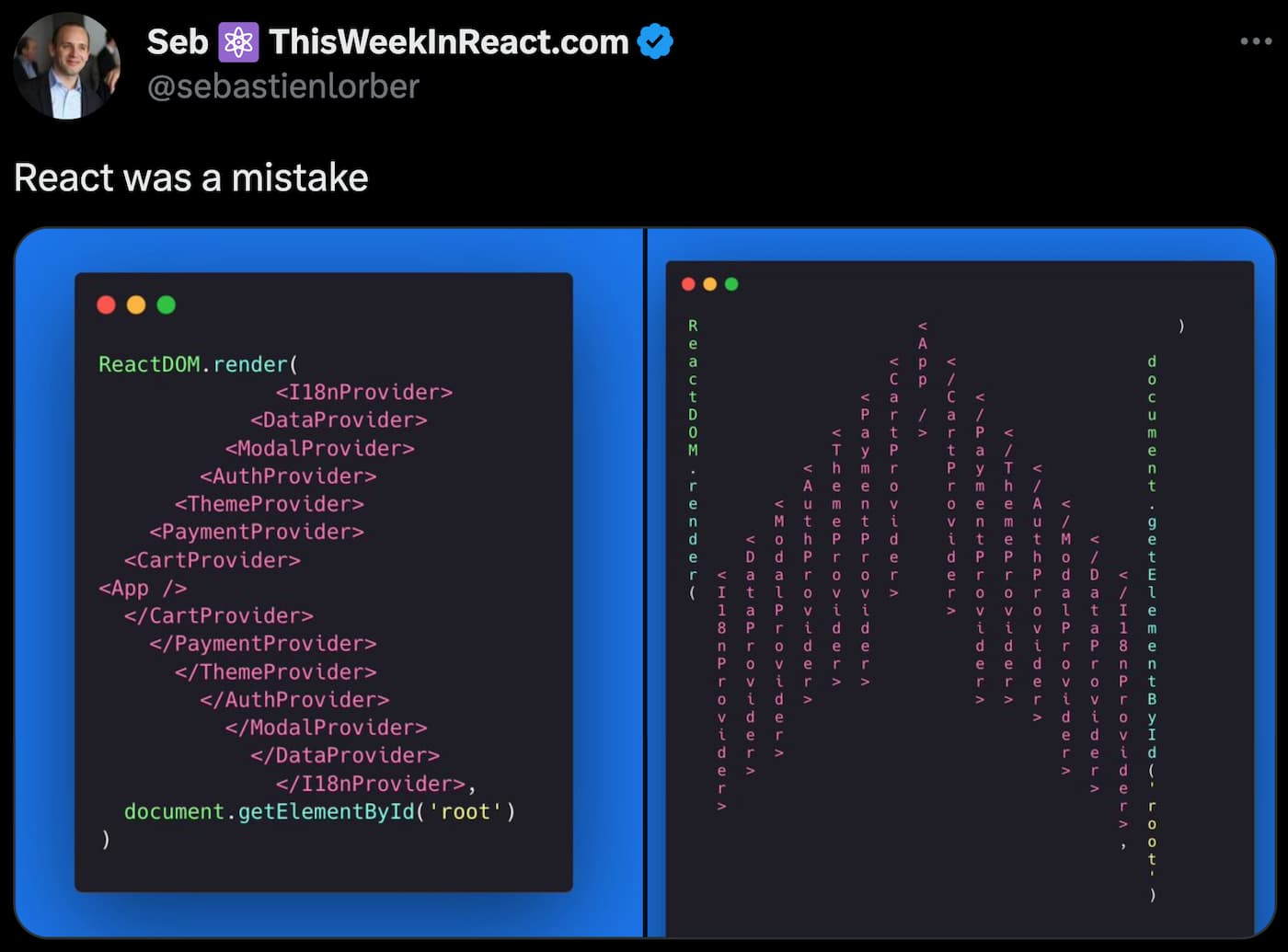 A plus 👋